CRW Demos Jump Team will jump into the race during the National Anthem!
(Actual picture of one member of the CRW Demos Jump team)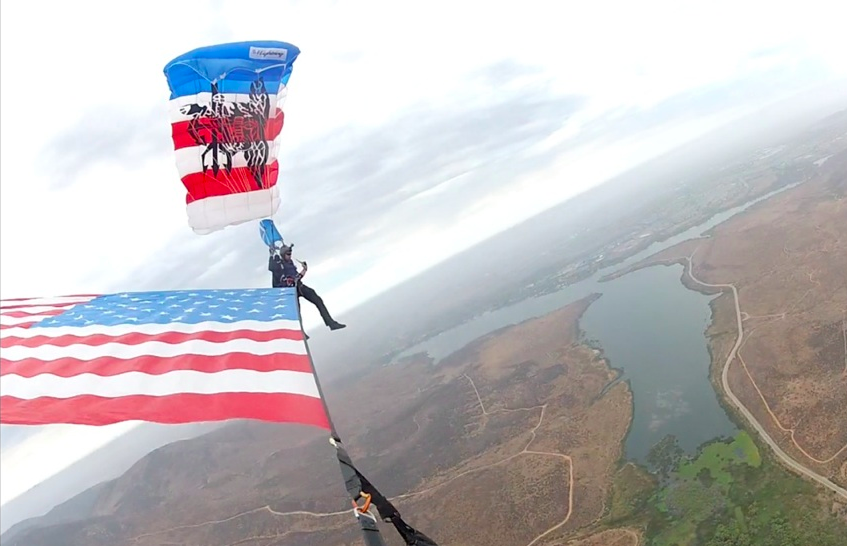 National Anthem Singer
Luke Spehar
Join us on Sunday, July 28th, to welcome Luke Spehar to San Diego, California where he will sing the National Anthem, give the audience a medley of his other songs, speak, and participate in the 5k.
"I look forward to singing at and running in the San Diego Joggin' for Frogmen 5k. I feel deeply honored to be able to give back to the Travis Manion Foundation.  They have been a tremendous support and comfort to my family since the tragic events of August 6, 2011 when my brother SO2 Nicholas Spehar was killed in action in Afghanistan. My brother was proud to be a SEAL and I feel grateful to have this opportunity to honor him and all of the men and women who sacrifice daily for our country. I am also very proud to support The 31Heroes Project. My brother Jacob Spehar, roommate John Crain and I participated in the "Mayhem in the Meadowlands" Crossfit competition in April 2013 and we were proud to partake in a fundraiser  that benefits such a wonderful foundation as The 31Heroes Project".  – Luke Spehar
In 2012, Luke was part of Ben Harper's "An Acoustic Evening with Ben Harper" tour, which was Harper's first ever acoustic headlining tour. Luke opened from Ann Harbor to Burlington and played a duet with Harper in Philadelphia.
To learn more about Luke Spehar please visit his website.
Listen to his music here or download here. 
Or visit and "Like" his Facebook page.
FREE Face Painting for the Kids
We will have Royal Entertainers at the race doing free face painting for the Tadpole Trotters!